Celebrate Black History Month with Us!
38th Annual Black History Month January 28th, 2023 | 10:30 am - 1 pm | UNM Student Union Ballroom

Co-sponsored by the Africana Studies Department and the African American Student Services Program
---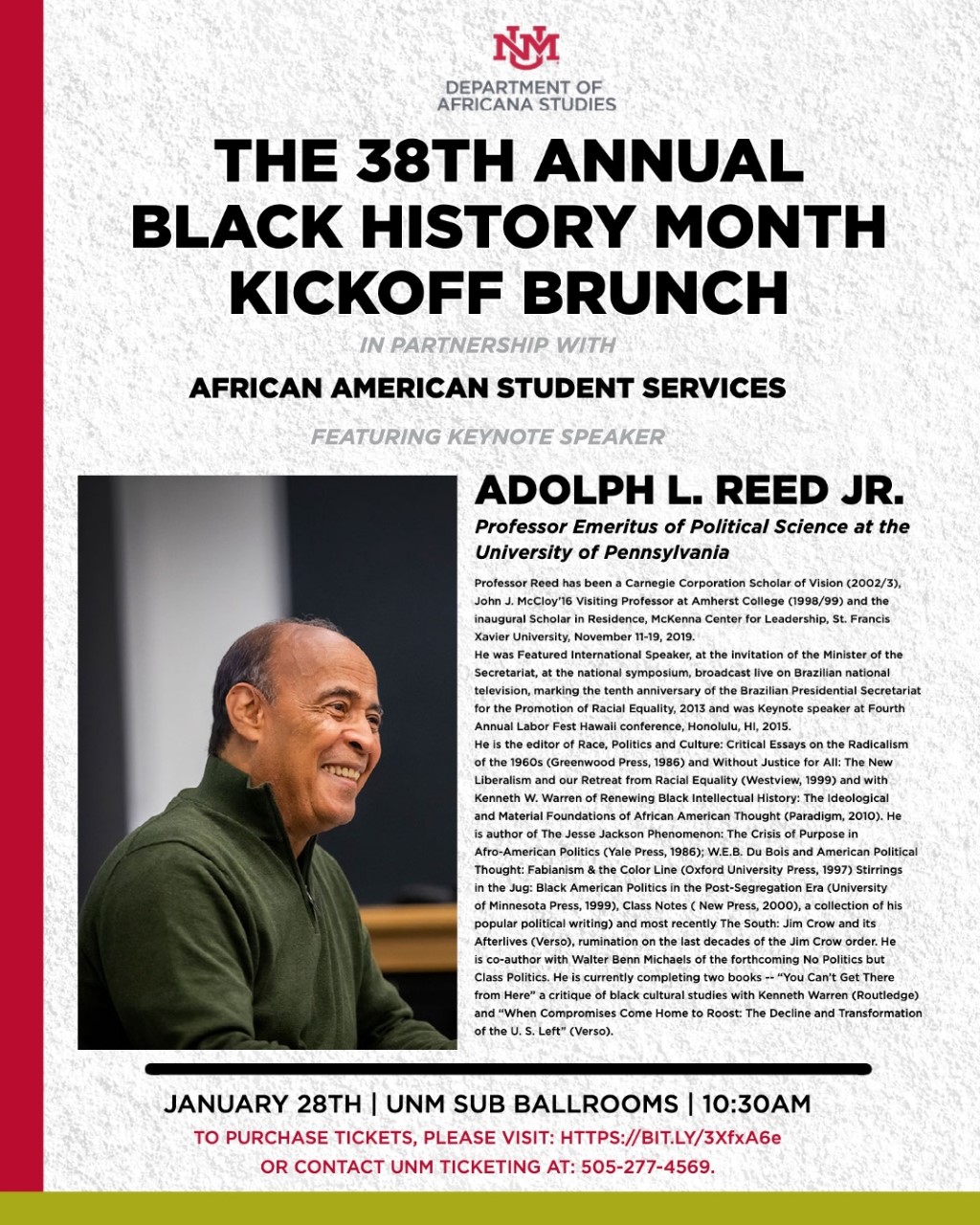 Sponsored by the Department of Africana Studies
36th Annual Black History Month
January 25 th, 2021 | 11 am - 1 pm | UNM Student Union Ballroom
Co-sponsored by the Africana Studies Program and the African American Student Services Program
---
Keynote Speaker: Dr. Melina Abdullah
Dr. Melina Abdullah is a recognized expert on race, gender, class, and social movements. She was among the original group of organizers that convened to form Black Lives Matter and continues to serve as a Los Angeles chapter leader.
She is also Professor and former Chair of Pan-African Studies at California State University, Los Angeles. Dr. Abdullah earned her Ph.D. from the University of Southern California in Political Science and her B.A. from Howard University in African American Studies.
Professor Abdullah is a womanist scholar-activist, understanding the role that she plays in the academy as intrinsically linked to broader struggles for the liberation of oppressed people. Professor Abdullah is a leader in the fight for Ethnic Studies in the K-12 and university systems and was a part of the historic victory that made Ethnic Studies a requirement in the Los Angeles Unified School District, also serving on the Taskforce for the Advancement of Ethnic Studies for the California State University system.
Abdullah is the author of numerous articles and book chapters, with subjects ranging from coalition-building to womanist mothering. She has contributed to popular media outlets, including The Root, Los Angeles Times, Truthdig, Los Angeles Sentinel, Los Angeles Progressive, and BK Nation. She is also co-host and co-producer of the weekly radio program Beautiful Struggle which airs on KPFK, part of the Pacifica radio network, and hosts and produces the weekly internet radio show "Move the Crowd," which airs on Radio Justice (radiojustice.org).
From 2014-2018, Dr. Abdullah served on the Los Angeles County Human Relations Commission, where she initiated and chaired the county-wide hearings on community experiences with policing and was instrumental in replacing Columbus Day with Indigenous People's Day. Dr. Abdullah also serves on a number of boards for, among others, the Black Community, Clergy and Labor Alliance (BCCLA), California Faculty Association-Los Angeles, Los Angeles Community Action Network (LA-CAN), and the National Association for Ethnic Studies.
Melina is the recipient of many awards, most recently the 2018 Community Service Award from National Council for Black Studies, 2017 Unsung Heroes Award from the Oscar Grant Foundation, 2017 Extraordinary Service Award from the African Heritage Studies Association, 2017 Justice Work Award from Beyond the Bars, 2017 Freedom Fighter Award from the NAACP, 2017 Activist Award presented by the National Association for Ethnic Studies, among numerous others.
She has appeared on MSNBC, CNN, TV One, ABC, PBS, Revolt TV, KTLA, KCET, BET, Free Speech TV, and Al-Jazeera, and is featured in the films "Waking the Sleeping Giant," "13th," "When Justice Isn't Just," and "Justice or Else" and in the television series "Two Sides."
Melina is originally from Oakland, California. She is a single "soccer mama" of three children and resides in Mid-City Los Angeles.
The Challenge & Charge of Africana Studies in this Era of Global Afrophobia
January 26 th, 2019 | 11 am - 1 pm | UNM Student Union Ballroom
Download & Listen to the Keynote  here
Co-sponsored by the Africana Studies Program and the African American Student Services Program
---
Keynote Speaker: Dr. Iva E. Carruthers
Dr. Carruthers is Professor Emeritus and past Chairperson of the Sociology Department at Northeastern Illinois University and is the current General Secretary of the Samuel DeWitt Proctor Conference (SDPC), an interdenominational organization within the African American faith tradition focused on justice and equity issues. She is co-editor of Blow the Trumpet in Zion: Global Vision and Action for the 21st Century Black Church and has authored and edited a number of articles and publications. She was a delegate to the 2001 U.N. World Conference Against Racism, Racial Discrimination, Xenophobia, and Related Intolerance and her publication, The Church and Reparations, was distributed by her denomination in several languages.
Dr. Carruthers is a frequent guest speaker before various national and international forums, including the U.N. Civil Society Forum on global drug policies. She has served as a consultant and delegate to many organizations in the public and private sectors and has led study tours for the university and church throughout Africa and the Diaspora.
Dr. Carruthers received her B.A. degree from the University of Illinois; the M.A. and the Ph.D. in Sociology from Northwestern University; a Master in Theological Studies degree from Garrett Evangelical Theological Seminary and a Doctor of Humane Letters, Meadville Lombard Theological School. Awards and postdoctoral fellowships received by Dr. Carruthers include Northwestern University Center for Urban Affairs, The Russell Sage Foundation, University of Chicago, Adlai Stevenson Institute for International Affairs and The National Endowment for the Humanities.
Speaking Truth to Power: Black Americans and the Active Voice of History
January 28 th, 2017 | 11am - 1pm | UNM Student Union Ballroom, A, B, & C.
Ticket Price: $40
For Table Sales & Sponsorship Contact: Maria Hazel Mendoza Jayme 505.277.5644 and 505.277.1926, or hazeltm@unm.edu
Co-sponsored by the Africana Studies Program and the African American Student Services Program
---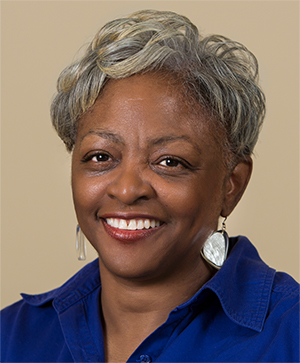 Dr. Carol Anderson is Professor of African American Studies at Emory University and has been recognized as one of the foremost figures in the field of History, Diplomatic Affairs, and Civil Rights.   Dr. Anderson is the author of several books, including Eyes off the Prize:  The United Nations and the African American Struggle for Human Rights, 1944-1955 (Cambridge University Press) which was awarded both the Gustavus Myers and Myrna Bernath Book Awards.  Her book, Bourgeois Radicals:  The NAACP and the Struggle for Colonial Liberation, 1941-1960 was published by Cambridge in 2014.  Her critically acclaimed work titled White Rage:  The Unspoken Truth of Our Racial Divide was published by Bloomsbury Publishing earlier this year and it has captured national attention and has been on the New York Times Bestseller list for numerous weeks.  For her efforts, Politico has recognized Dr. Anderson as one of the fifty "thinkers, doers, and visionaries transforming American politics in 2016."  Dr. Anderson's research has also garnered substantial fellowships from the American Council of Learned Societies, the Ford Foundation, the National Humanities Center, Harvard University, and the Gilder Lehrman Institute of American History.  Not only that, she has held leadership positions at Amnesty International, USA, the American Civil Liberties Union, and the U.S. State Department's Historical Advisory Committee.
31st Annual Black History Month Kick-off Brunch
Freeman A. Hrabowski
President of University of Maryland, Baltimore
January 30, 2016
11am - 1pm
Student Union Sub-Ballroom: A, B, C
Freeman A. Hrabowski, III, has served as President of UMBC (The University of Maryland, Baltimore County) since 1992. His research and publications focus on science and math education, with special emphasis on minority participation and performance. He chaired the National Academies' committee that produced the recent report, Expanding Underrepresented Minority Participation: America's Science and Technology Talent at the Crossroads. He also was recently named by President Obama to chair the newly created President's Advisory Commission on Educational Excellence for African Americans. Hrabowski's new book, Holding Fast to Dreams: Empowering Youth from the Civil Rights Crusade to STEM Achievement, out in May 2015, is about his experiences with the civil rights movement and how they led him to develop programs promoting educational success in science and technology for African Americans and others.
In 2008, he was named one of America's Best Leaders by U.S. News & World Report, which ranked UMBC the nation's #1 "Up and Coming" university the past six years (2009-14). During this period, U.S. News also consistently ranked UMBC among the nation's leading institutions for "Best Undergraduate Teaching" – in 2014, other universities on the list included Princeton, Brown, Stanford and Yale. TIME magazine named him one of America's 10 Best College Presidents in 2009, and one of the "100 Most Influential People in the World0" in 2012. In 2011, he received both the TIAA-CREF Theodore M. Hesburgh Award for Leadership Excellence and the Carnegie Corporation of New York's Academic Leadership Award, recognized by many as the nation's highest awards among higher education leaders. Also in 2011, he was named one of seven Top American Leaders by The Washington Post and the Harvard Kennedy School's Center for Public Leadership. In 2012, he received the Heinz Award for his contributions to improving the "Human Condition" and was among the inaugural inductees into the U.S. News & World Report STEM Solutions Leadership Hall of Fame.
He serves as a consultant to the National Science Foundation, the National Institutes of Health, the National Academies, and universities and school systems nationally. He also serves on the boards of the Alfred P. Sloan Foundation, France-Merrick Foundation, Marguerite Casey Foundation (Chair), T. Rowe Price Group, The Urban Institute, McCormick & Company and the Baltimore Equitable Society. He served previously on the boards of the Carnegie Foundation for the Advancement of Teaching and the Maryland Humanities Council (member and Chair).
Examples of other honors include election to the American Academy of Arts & Sciences and the American Philosophical Society; receiving the prestigious McGraw Prize in Education, the U.S. Presidential Award for Excellence in Science, Mathematics, and Engineering Mentoring, the Columbia University Teachers College Medal for Distinguished Service, the GE African American Forum ICON Lifetime Achievement Award, the American Educational Research Association's Distinguished Public Service Award, and the American Association for the Advancement of Science's (AAAS) William D. Carey Award; being named a Fellow of the AAAS, Black Engineer of the Year (BEYA) by the BEYA STEM Global Competitiveness Conference, Educator of the Year by the World Affairs Council of Washington, DC, and Marylander of the Year by the editors of the Baltimore Sun; and being listed among Fast Company magazine's first Fast 50 Champions of Innovation in business and technology, and receiving the Technology Council of Maryland's Lifetime Achievement Award. He also holds honorary degrees from more than 20 institutions – from Harvard, Princeton, and Duke to the University of Michigan, the University of North Carolina at Chapel Hill, Johns Hopkins University, Georgetown University, Haverford College and Harvey Mudd College.
With philanthropist Robert Meyerhoff, he co-founded the Meyerhoff Scholars Program in 1988. The program is open to all high-achieving students committed to pursuing advanced degrees and research careers in science and engineering and advancing underrepresented minorities in these fields. The program is recognized as a national model, and based on program outcomes, Hrabowski has authored numerous articles and co-authored two books, Beating the Odds and Overcoming the Odds (Oxford University Press), focusing on parenting and high-achieving African American males and females in science. He and UMBC were recently featured on CBS's 60 Minutes, attracting national attention for the campus's achievements involving innovation and inclusive excellence.
A child-leader in the Civil Rights Movement, Hrabowski was prominently featured in Spike Lee's 1997 documentary, Four Little Girls, on the racially motivated bombing in 1963 of Birmingham's Sixteenth Street Baptist Church.
Born in 1950 in Birmingham, Alabama, Hrabowski graduated from Hampton Institute with highest honors in mathematics. He received his M.A. (mathematics) and Ph.D. (higher education administration/statistics) from the University of Illinois at Urbana-Champaign.
Topics:
Beating the Odds: Raising Academically Successful African American Males
Overcoming the Odds: Raising Academically Successful African American Women
Africana Studies Program, in partnership with the African American Student Services Program
Present the 30th Annual Black History Month Kick-Off Brunch
Featuring
Roslyn M. Brock
An Emerging Black Voice for the 21st Century
Civil Rights Leadership And Public Health In The 21st Century
January 31, 2015
11 am-1 pm
University of New Mexico Student Union Ballroom A, B, and C
Tickets available $35 at unmtickets.com or by phone at 505.925.5858
For Table Sales and Sponsorship, contact Dr. Robert Jefferson @ 277-0791 or cdavis2@unm.edu
Roslyn M. Brock is Chairman of the National Board of Directors for the National Association for the Advancement of Colored People (NAACP). She made history in February 2010 when she was unanimously elected as its 14th Chairman. She is the youngest person and fourth woman to hold this position.
Brock's leadership skills have been recognized by several national publications and organizations. In 2012, she was the convocation speaker at the Kellogg School of Management, Northwestern University and featured as February 6, 2012, NBC Universal iVillage Woman of the Week.
Brock was awarded the 2011 Distinguished Alumni Achievement Award by the George Washington University; the September 2010 issue of Essence magazine listed her among the "40 Fierce and Fabulous Women Who Are Changing the World," Black Entertainment Television (BET) 2010 "Black Girls Rock," honored her in its inaugural broadcast and she received the 2010 National Urban League's Women of Power Award.
Brock's goal in life is embodied in an African proverb, "Care more than others think is wise, Risk more than others think is safe, Dream more than others think is practical, and Expect more than others think is possible."
SYBRINA FULTON
Mother of Trayvon Martin
Sybrina FultonAfricana Studies of UNM has created and hosted a Black History Month Kickoff Brunch for more than 25 years. The brunch has featured renowned civil rights leaders, activists, political leaders, artistic fellows, and economic powerhouses from the Black community. 2014 is the 50th anniversary of the Civil Rights Act of 1964 and the national theme for Black History Month is Civil Rights in America. The Africana Studies Program is pleased to lead the celebration of this historic year for the University of New Mexico. The Annual Black History Month Kick-off Brunch will be held on Saturday, January 25, 2013, at 11 a.m. in the UNM Student Union Building, Ballrooms A, B, and C. This year's brunch will feature Sybrina Fulton, mother of Trayvon Martin.
Sybrina Fulton is dedicating her life to transforming family tragedy into social change. Since the death of her 17-year-old son during a violent confrontation in 2012, Fulton has become an inspiring spokesperson for parents and concerned citizens across the country. The publicity surrounding Trayvon's death and the ensuing trial catapulted the country into a national debate. Despite the intense struggle of losing a child, Fulton has become a role model to many by turning her grief into advocacy. Remaining strong throughout the trial and ensuing months, she lends her voice to speak against violence towards children and the need to build better, safer communities for all.
A Miami native, Fulton graduated from Florida Memorial University, where she earned a bachelor's degree in English. A proud mother, Fulton worked for the Miami-Dade County Housing Development Agency for over 25 years and is a member of Antioch Missionary Baptist Church of Miami Gardens.
2014 Black History Month Events
Voices from the African Diaspora: A Celebration through Performance, Poetry & Storytelling
Thursday, February 6, 2014 4:00 PM 'til 6:00 PM, Student Union Building (SUB) Fiesta A & B; "Annotated Spirituals." A Performance by Mr. Anthony Brown
Tuesday, February 11, 2014 4:00 PM 'til 6 PM, Student Union Building (SUB) Fiesta A & B; "Imagine: Different." A Poetic Conversation with Creative Writer Anton Niblett

Thursday, February 20, 2014, 4:00 PM 'til 6:00 PM, Zimmerman Library, Walters Room; 

"'Watermelon! Watermelon! Got em red to the rind': African American Women Street Vendors and their Performances with Food." A Lecture by Dr. Psyche Williams-Forson, Associate Professor in American Studies, University of Maryland College Park

Thursday, February 27, 2014, 4:00 PM 'til 6:00 PM, Student Union Building (SUB) Fiesta A & B; "Students Share Their Stories: UNM's Young, Gifted, & Black." Panel on Being a McNair Scholar.  All Events are Free & Open
Questions: contact Dr. Belinda Deneen Wallace at bwallace@unm.edu
HILL HARPER
ACTOR, AUTHOR, YOUTH ADVOCATE
Africana Studies of UNM has created and hosted a Black History Month Kickoff Brunch for more than 25 years. The brunch has featured renowned civil rights leaders, activists, political leaders, artistic fellows, and economic powerhouses from the Black community. 2013 is a milestone year as it marks the 150th Anniversary of the Emancipation Proclamation. The Africana Studies Program is pleased to lead the celebration of this historic year for the University of New Mexico. The Annual Black History Month Kick-off Brunch will be held on Saturday, January 26, 2013, at 11 a.m. in the UNM Student Union Building, Ballrooms A, B, and C. This year's brunch will feature the acclaimed actor, author, and youth advocate, Hill Harper.
Harper was named Outstanding Actor in a Drama Series in 2008 and 2009 by the NAACP Image Awards for his television role on CSI: NY. Prior to his current series, Harper appeared in City of Angels and The Handler, and guest-starred on such top shows as Soul Food, The Sopranos, ER, NYPD Blue, and The Fresh Prince of Bel-Air. An accomplished film actor as well, he starred in the HBO movie Lackawanna Blues and received critical acclaim for his performance in the independent film The Visit. He has also appeared in In Too Deep, Beloved, He Got Game, Get on the Bus, Zooman, and One Red Rose, which he co-wrote for Showtime.
Harper graduated magna cum laude with a B.A. from Brown University and cum laude with a J.D. from Harvard Law School. He also holds an M.A. in Public Administration from the Kennedy School of Government. Harper has always known that personal achievement is only part of success; to be truly successful is to help others accomplish their goals. A volunteer and spokesman for Big Brothers, Big Sisters, Harper understands how difficult it is to stay on the straight path in life, and that our youth don't always have the tools to do the right thing even when they want to. This understanding is what drove Harper to embark upon the path of being an author. Harper is the author of the bestsellers Letters to a Young Brother which won two NAACP awards and was named a Best Book for Young Adults by the American Library Association in 2007, and New York Times bestseller, Letters to a Young Sister. His latest work, The Wealth Cure: Putting Money in Its Place, helps readers discover how to put money in its place and use wealth-building as a tool for joy and fulfillment.
Event Flyer
DONNA BRAZILE
Political Commentator, Strategist, and Author
Donna BrazileThe Annual Black History Month Kick-off Brunch was held on Saturday, January 28, 2012 at 11 a.m.. in the Student Union Building, Ballrooms A, B, and C. The theme was "Black Women in American History, Culture and Politics" and the speaker was the renowned political commentator, strategist, and author, Donna Brazile.
Brazile is an adjunct professor at Georgetown University, a syndicated newspaper columnist for United Media, a columnist for Ms. Magazine and O, The Oprah Magazine, and an on-air contributor to CNN and ABC, where she regularly appears on This Week with Christiane Amanpour. Author of the best-selling memoir Cooking with Grease: Stirring the Pots in American Politics, she has worked on every presidential campaign from 1976 through 2000, when she served as campaign manager for former Vice President Al Gore, becoming the first African American woman to manage a presidential campaign. Brazile's passion is encouraging young people to vote, to work within the system to strengthen it, and to run for public office. She is currently the Vice Chair of Voter Registration and Participation and former chair of the Voting Rights Institute at the Democratic National Committee.
Because of her great insight into the American political system, Brazile has been recognized as one of O, The Oprah Magazine's "20 Remarkable Visionaries" among the "100 Most Powerful Women" by Washingtonian magazine, the "Top 50 Women in America" by Essence magazine, and has received the Congressional Black Caucus Foundation's highest award for political achievement.
2012 Flyer | Program
MICHAEL ERIC DYSON
Hip Hop Professor, Cultural Critic, NAACP Image Award Winner
Africana Stud­ies' 26th Annual Black His­tory Month Kick-Off Brunch, set for Sat­ur­day, Jan. 29 at 11 a.m. in the UNM SUB ball­rooms, is the cul­mi­nat­ing event in the year-long Michael Eric Dysonreflec­tion of 40 years of the UNM Africana Stud­ies Pro­gram. Events cen­tered around the theme, "Forty Years Wan­der­ing in the Aca­d­e­mic Desert: Does Any­one See the Promised Land?". "Hip Hop Pro­fes­sor" Michael Eric Dyson is the fea­tured brunch speaker.
Dyson, best-selling author, scholar, and cul­tural critic addresses the theme in a dis­cus­sion of equal­ity and race issues in Amer­ica. Dyson's pio­neer­ing schol­ar­ship helped estab­lish the field of Black Amer­i­can cul­tural stud­ies and his books cover every aspect of Black thought. His works include: Holler if You Hear Me: Search­ing for Tupac Shakur; New York Times best­seller Is Bill Cosby Right? Or Has the Black Mid­dle Class Lost Its Mind?; and Come Hell or High Water: Hur­ri­cane Kat­rina and the Color of Dis­as­ter.
His fear­less and fiery ora­tory has elec­tri­fied audi­ences in class­rooms, pris­ons, polit­i­cal con­ven­tions, churches and lec­ture stages across the world. He has appeared on The Today Show, Night­line, O'Reilly Fac­tor, The Tavis Smi­ley Show and Real Time with Bill Maher.
Dyson has taught at sev­eral uni­ver­si­ties includ­ing Brown Uni­ver­sity, Colum­bia Uni­ver­sity, the Uni­ver­sity of North Car­olina and the Uni­ver­sity of Penn­syl­va­nia. He is cur­rently a Dis­tin­guished Pro­fes­sor of Soci­ol­ogy at George­town University.
Black History Month flyer | Kick-Off Brunch Program
Podcast
Africana Studies Professors Sonia Rankin and Alfred Mathewson talk about plans for Black History Month at UNM in an interview with Carolyn Gonzales, senior communication representative, University Communication and Marketing.
To listen to the podcast, visit: Black History Month 2010.
ANNA DEAVERE SMITH
Actress, Playwright, Professor
The Africana Studies Program presents a series of events to celebrate Black History Month, beginning with the 25th Black History Month Kick-Off Brunch on Saturday, Jan. 30, at 11 a.m. in Student Union Building ballrooms A and B. The brunch features a lecture by award-winning playwright, actress and MacArthur Genius Grant winner Anna Deavere Smith, "Forty Years Wandering in the Academic Desert: Does Anyone See the Promised Land?" She will discuss equality and race issues in the academic community
Smith's career covers mainstream culture as well as academia. Her work in the theater explores American character and multifaceted national identity. Her works include "Fires in the Mirror," "Twilight: Los Angeles" and the current off-Broadway play "Let Me Down Easy." She is also known for her film and television work, including a role on NBC's "The West Wing."
Black History Month 2010 flyer | Black History Month Program
---
Other Black History Month events include:
UNM Africana Studies Day in Hobbs, Saturday, Feb. 6, 1 p.m., Booker T. Washington Elementary School, Hobbs, New Mexico. View flyer here.
" A Message to Youth: From Pain to Power." Sunday, Feb. 28, 4 p.m., UNM Continuing Education Building auditorium. Daniel Beaty shares his journey – growing up with a father who was a heroin addict and dealer and a brother addicted to crack cocaine – and how he discovered his purpose. Beaty has appeared on HBO's "Def Poetry Jam" and BET's "106 & Park." View flyer here.
Black History Poster Presentations by students in kindergarten through 12th grade, Sunday, Feb. 28, 3:30-6 p.m., UNM Continuing Education Building. View flyer here.
Black Cultural Conference, "Many Roads, One Destination," Thursday, March 4-Saturday, March 6, presented by UNM African American Student Services, UNM Africana Studies Program and the Office of African American Affairs.
Onyx Knowledge Bowl and Community Service, Saturday, March 6 from 10 AM to 12 noon, UNM SUB. Students will display their Africana Studies knowledge to win UNM Bookstore certificates. Students also donated and delivered canned goods to Roadrunner FoodBank. View flyer here and photos of the winners donating here.
Podcast
UNM Sr. Communication Rep. Carolyn Gonzales interviewed Africana Studies Acting Director, Dr. Sherri Burr, about UNM's Black History Month events, current academic initiatives in the program, news about a recent intercession course that took students to Egypt, and an introduction to assistant professor, Dr. Kadeshia Matthews, who shares a joint appointment with English and Africana Studies. To listen to a podcast featuring Dr. Sherri Burr discussing UNM's Black History Month visit: Black History Month 2009 at UNM.
Radio Interview
Dr. Burr, along with Program Specialist, Dr. Charles Becknell, Jr., and Africana Studies major, Timothy Green, would do a radio interview on "Voices". You can hear the interview by visiting: Voices Interview.
DICK GREGORY
Comedian, Social Activist, and Critic, Writer, Entrepreneur
The UNM Africana Studies Department kicks off Black History Month with a brunch on Saturday, Jan. 31 at 11 a.m. in the Student Union Building, Ballrooms A and B. The brunch features a lecture by influential civil rights activist and comic Dick Gregory. The lecture, titled "From Civil Rights Activism to the Election of Obama: Has the Dream Been Fulfilled," will discuss current equality and race issues in the African American community.
A leader from the 1960s civil rights movement, Gregory is a comedian, social activist, entrepreneur and author who has conveyed his political message on civil rights to both white and black audiences.
Learn more about why we celebrate Black History Month here.